Are You Ready for Summer? What We Do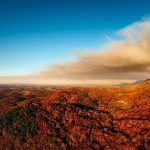 Here in southern New Mexico, June is our hottest month. It's barely rained for months and the rainy season usually starts in July. Add that we have a lot of windy days in the spring. There have been forest fires already around the Southwest. Even here my eyes have burned from distant smoke a couple of times.
So I'm doing quite a few things to prepare for the new season. What you will do depends of course on where you live and what you cope with. I'm not gloating when I say I haven't seen one mosquito yet this year! It's been that dry.
Prepping the RV for Leaving Quickly
We recently filled the tanks of our old motorhome with water, and we've already had one guest stay in it in our back yard. If we needed to leave here in a hurry, we could, though really I should go through the RV and check on its supplies of food, dog food, toilet paper, clothing, bathroom items, and more. It's good to have it well stocked so that the things we would want to add if we left would be things we use in the house all the time. Here's a basic home evacuation checklist. Hmm, I'd better go over that again myself tomorrow… I do at least a little prepping on Saturdays. Well, most Saturdays!
When my birthday came up back in 2016, we got the dogs and our stuff into the motorhome and got ready for an overnight trip out in the country. But the rig wouldn't start. I tell that story at the link, but ever since then, Kelly has started the engine around the first of the month.
Getting Clothing Ready for the Summer
This was fun. One day this week and I pulled out all my shoes and sandals. I tried on the ones I wasn't sure of, put one favorite but useless old pair in the trash, put a couple of others in the giveaway box, and switched places so my sandals are in the handiest place. Makes me sound like I have a shoe fetish… no, but this spring and fall routine does keep me in check.
Then yesterday, I dumped all the clothing on hangers in my closet onto the bed. Not much trying on needed but I had to admit that there were some things I hadn't worn in over a year. Most of them are now in the giveaway box and a couple are in my mending pile. My sweatshirts are now out in my little sewing room, on the rack there. And I have a short list of items to buy. First I'll try my two favorite thrift stores here and then I will either decide to do without or I will buy a few things new.
I still have a dresser to go through. My husband is amused by this seasonal ritual of mine, but he doesn't do it himself.
Checking on our Preparedness Binder
Just as spring and fall are good times for the motorhome and clothing updates, they are good times to take a look at what paperwork we have in order. Ours is never really finished. Here's a blog post I did about ten things to put in a family emergency binder. Just for fun, there is also a section about idiotic things people grabbed when they had to leave fast.
Preparations Around the House and Yard
Check your water supplies, hoses, garden setup if you have one, flashlights and batteries, and so on. Drought gives you time to go the stores while they are well supplied but tornadoes give less warning and of course earthquakes even less. And then get out and enjoy your favorite summer activities!
Here's an article I wrote that describes air filters and other equipment you might want to cope with heat and smoke especially.