Hot, Dry, and Smoky: Ways to Cope with Summer in the Southwest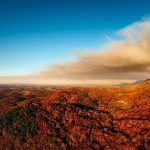 It can be hot, dry, and smoky during the summers here in the Southwestern United States. Sometimes it's just hot and dry. Other times it's smoky from distant forest fires until the wind changes. So on a regular basis here, you have to deal with heat, very low relative humidity, and smoke… in varying combinations.  (This article isn't about coping with fire so close that you may have to leave.)
What can you do? Quite a lot, it turns out. Here are tips to help you endure the worst of summer and still enjoy the best of it. The dry climate of the southwest can become much more humid after a summer storm hits, and later it can go back to drying out your skin. So you need a variety of strategies and tools to keep yourself cool. Your kids and pets need to stay cool enough, too!
How to Keep Your Home More Comfortable
Here's a strategy that works for houses, mobile homes, and apartments. It works best if you are at home to catch the best moments but even with a work schedule, it works… When you get up, open up the whole place for fresh cool air. Close your windows early in the day when it becomes warmer outside. Then open them whenever it cools off, in the late afternoon, evening, or even in the middle of the night. Of course, consider your personal safety where you live in choosing what to leave open.
Combined with timing like that, using damp towels or sheets hanging in the windows or doors can help with the dryness of the air and with the heat. As the moisture evaporates over time, it cools down the air temperature.
Equipment that Helps: Fans, Swamp Coolers, Air Filters, Air Conditioners
As you consider your options here, also keep in mind that on the hottest days, people from California, Arizona, New Mexico, Nevada, Utah, and Colorado will all be trying to stay comfortable. The more energy-efficient everyone's choices are, the less likely we will have to deal with brown-outs or even power outages!
Fans
Fans are an essential part of summer cooling strategies. Here's a link to the bestselling fans right now at Amazon.com.  When you are using a fan in the window, it works best if it is pulling the warm air out of the house, that is, blowing outward. Ceiling fans may help too. And a personal fan at your desk or that you carry around with you is an inexpensive option.
Swamp Coolers
Swamp coolers are not called that because they work in swamps. Quite the opposite. A more descriptive term for these handy devices is evaporative coolers. They work best in hot, dry regions… like the Southwest. They come in many sizes and shapes but the principle behind how they all work is the same. It's this: When air moves over something wet, some of the moisture is taken up by the air and that has a cooling effect. (Just like the damp sheets and towels I mentioned a moment ago.)
Here is a link to the currently best-selling swamp coolers at Amazon.com. As you can see on that page, there are two kinds: some of them are meant to be installed in windows. These have a larger box that sits outside the house. Others are free-standing portable units. By the way, these are not meant to be used WITH any form of air conditioning. Here in the Southwest, the swamp coolers are best used on the hot, dry days before the rains come. Once the humidity is higher, they are less useful, but by then with luck it will be cooler and you can get by with fans. Or you might use an air conditioner.
We have one of the portable swamp coolers, and we love it. It cools our living room and our dining room very nicely, even if the windows are shut, as they always are when it's smoky and often are when it's a lot hotter outside than inside.  That particular one isn't made any more but here is one of the most popular portable swamp coolers:
The Hessaire MC37A 2200 CFM 3 Speed Evaporative Cooler gets good reviews. It's meant for spaces up to 750 square feet.
Keep in mind that these coolers are not air conditioners, and they use a lot less less electricity.If I were buying one today, I'd take a good look at this one. You fill up the tank every 3 to 5 hours.
It does not have a vent to connect with a window, though if it is like the one we have, it does work a bit better if it's near a window that is open at least a little.  It cools things down by about 10 or 15 degrees.
Another popular portable swamp cooler is the Honeywell CL201AE 42 Pt. Indoor Portable Evaporative Air Cooler with Remote Control.
Air Filters
Now we get to the smoky part! I've written about air filters three times before on this blog. The first article tells how we were able to stay in our Colorado home one year when smoke from fires hundreds of miles away was making it hard for me to breathe. Here are the articles:
Now we live in southern New Mexico, and as I write there are several fires burning in the vast Gila National Forest north of us. Some of those are less than 100 miles from here, and when I step outside, my eyes feel the effects even before I can smell the smoke. But indoors, thanks to our portable air filter, I can breathe! When the weather report has a dense smoke advisory, I make sure our purifer is on!
Here's a link to the best-selling HEPA air purifiers right now. By the way, HEPA is an abbreviation for high-efficiency particulate air. Many air purifiers are HEPA, with the capacity of removing more particulates from the air than other air purifiers can. It's easy to find one.
The New Mexico Environmental Public Health Tracking website has a good page about protecting your health during fires and on smoky days.
Air Conditioners
Air conditioners certainly have their place. I only have experience with the whole-house system (which is tied in with the furnace) that was installed some years before we bought our New Mexico house. We get by without using it until almost dinnertime most hot days, but then we have the advantage of being at 6,000 feet elevation. We use it for an hour or more on hot days. Once it is cooler outside than inside, we turn it off and open up.
But in much of the southwest, air conditioning is more important than it is to us. Whole-house systems can be thousands of dollars to install and quite expensive to run, but you can use a window air conditioner or a portable one to meet your specific needs. Here's a link to the current best-sellers in window air conditioners at Amazon. I noticed that the more popular units have lots of reviews. Window air conditioners are more energy efficient than the portable ones. As they hang out of a window, they don't clutter up your space as much as a portable one does. (But if you live in a homeowners association, be sure they let you use these.)
The portable units typically have one or two tubes going over to a window.  You can move them around more easily than the window units but not as easily as a swamp cooler. Here are the best-selling portable air conditioners at Amazon.com.
Looking at some of both kinds will help you decide what you need. Here's an article evaluating portable ones.
A Useful Accessory: Indoor Outdoor Thermometer with a Relative Humidity Gauge
Here are a couple of these things, sometimes called weather stations. We are always checking what ours say!
 La Crosse Technology WS-9160U-IT Digital Thermometer with Indoor/Outdoor Temperature ThermoPro TP60 Indoor Outdoor Thermometer Humidity Monitor with  200ft/60m Range
Strategies to Keep Your Body Comfortable
Here are a couple of things to do:
Change your clothes to suit the temperatures… we don't see as many suits around here!
Adjust your schedule to get up early when it's cool and take advantage of that time of day. This makes it easier to keep your home cooler too
Several Ways to Use Water to Cool Off
Choose your times to shower.
Speaking of water, dip into a portable swimming pool, or let the kids play in one
Drink enough liquids… keep cold water in refrigerator
If you don't much care for the taste of tap water, drink it filtered…Even letting it stand overnight cuts the chlorine. Or add mint leaves, a squirt of fresh lemon or lime, or a dash of fruit juice
Keep a spray bottle handy for a quick refreshing moment!
Be Sure to Get Outside
~~~Be sure to get some time outdoors. I pick my garden produce for the day and pull some weeds first thing in the morning, and I play with our dog in the yard after the sun goes down. Some evenings, when a thunderstorm is coming in but it isn't raining yet, we sit outside and watch the sky while the dog hides under a chair. Be sure whatever outdoor furniture you have does get used! Here's an article I wrote about patio furniture sets, with lots of illustrations. (That's what they are called but you don't need a patio to use them.)
What We Do, in the Mountains of New Mexico
Here is what works for us, in Silver City, New Mexico, at 6000 feet. Our swamp cooler and air purifier are the real keys to staying comfortable. 
I've already mentioned our timing of opening and closing up the house. But there are some things about our house that give us an edge too… we bought a 1940s adobe house and then last year my husband added insulation to the exterior walls, and then re-stuccoed them as well. So the house itself does amazingly well.
Three things that I like about it here: No hurricanes. No tornadoes. No earthquakes. So if it's hot, dry, and smoky at times, hey, we'll get by.