Gathering: Memoir of a Seed Saver, by Diane Ott Whealy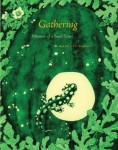 I recently read a fascinating account of the growth of the seed savers movement in the United States. Diane Ott Whealy, who wrote Gathering: Memoir of a Seed Saver, is one of the founders of the Seed Savers Exchange, which you can go to at seedsavers.org.
In one of the most beautifully created books I've seen short of expensive art books, she writes about how she and her family became the core of what became the SSE. Her passion for saving valuable old heirloom seeds and keeping them from dying out runs through just about every page of the book. I was moved and inspired.
I've gardened mainly with heritage seeds and so unknowingly I am one of the many who owe these dedicated people a big thank you!
The book is personal autobiography woven with the story of meetings, a house where seed collections threatened to take over every inch that Ott Whealy, her husband Kent, and their children lived in! Since she and I are of the same generation, I specially enjoyed her stories of different eras.
A terrific, important, and visually pleasing book, highly recommended!