Emergency Water Storage at Home: Download My Free E-Book Here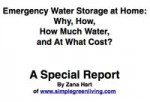 Here is the link to a free ebook I just wrote. It is titled: Emergency Water Storage at Home: Why, How, How Much Water, and at What Cost? It is a PDF file. If you just click on the link, it will open in a new tab or window. To download it to your computer, right-click on the link and chose "Save Link As" and then you will have it. You are very welcome to print it out or to share the PDF file with other people, provided you don't charge them anything!
Home water storage has been on my mind, and I blogged about it before… that blog post is where the link takes you. We had a few short water outages here, nothing more than a few hours, but as a result, I was asked to do a presentation at our small-town Energy Fair. As I gathered information I thought of doing an ebook to sell, which is part of how I earn my living. But when I realized how few people actually are prepared to survive just a few days without water coming in their pipes, I thought I would rather give it away and thus reach a much wider audience.
The ebook is just over 20 pages and to give you an idea of what it covers, here are the chapter titles:
Why Store Any Water When You Probably Won't Need It?
How Much Water Should You Store in Your Home?
Simple Ways to Store Water in Your Home
Storing Water Outside
Treating Stored Water
Maintaining Your Emergency Water Storage: A Few Minutes Twice a Year
Checklist of Things to Do
Resource Guide
I wrote this in hurricane season. Some of the people in hurricane regions would have had an easier time of it if they had stored some water. Who will need this information next?