A Free or Low Cost Standing Desk for Your Laptop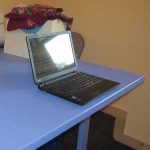 Have you thought of trying a standing desk? I've read a number of enthusiastic articles by people who have found that sitting less gives them more energy. They extol the benefits of better posture, less strain than sitting still, more focused concentration, and so forth. There are even more significant health benefits that I cite below, from an article in the Smithsonian Magazine.
Since my husband and I work at home, we put effort into creating good work environments for ourselves, and that's what got me researching these devices.Evidently something like a couple of hours of standing can make a real difference.  I was pleased to find some inexpensive things and even more pleased to discover a free solution I'll try out first! (Hint: it's the blue table.)
Standing Desk Options
When I began doing research, I discovered that there are many, many choices in all price ranges. A bit overwhelming! I decided to concentrate on items you could use with a laptop computer, since that is what I have.  I looked for only those products that have at least 50 favorable reviews (4 stars and up) at Amazon.com AND that cost under $50. It was easy enough to find to ones like that. So here are some choices, organized by the number of good reviews, with the most first. (Review numbers do change over time, of course.) I stayed with the low price range on the theory that I wouldn't be sure of a standing desk until I tried it for a while. I'd rather try out the idea with something easy on the budget… Click on an image or its descriptive text to find out more… all links open in a new tab, for easiest comparison. And if you are not as frugal as I am, take a look at these and see what else turns up on their product pages.
Tables that Go Up and Down
In this category, I found one example within the limits I had set.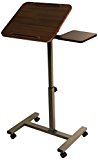 The Seville Classics Sit-Stand Desk Cart with Side Table is a table in itself.
There are three models on the same page at amazon… the original, one with a tilting top, and one with a little side tray that can hold a mouse. I do like using a mouse, and being left-handed, I made sure that it can go on the left or the right.
You can use this table at a standing height or at a sitting height, just manually changing its height anywhere from 27.5 inches up to 40 inches, using a locking knob. It has four rolling casters but two of them lock, giving it a firm position as you work.
I liked that versatility. It's a small-sized desk, easy to fit into a home office. You could have it near a regular desk or a table where you could spread out papers.
Adjustable-Height Standing Desk Converters
Now here is the kind of thing that interested me the most… These tend to have complicated names and they may emphasize their versatility as breakfast trays and all sorts of things, but they all look to me like they could provide you with a versatile converter to keep on your desk, easy to raise and lower:
 iCraze Adjustable Vented Laptop Table Laptop Computer Desk Portable Bed Tray Book Stand Multifuctional & Ergonomics Design Dual Layer Tabletop (Black) Avantree Quality Adjustable Laptop Table Bed Tray, Portable Standing Desk Readaeer Adjustable Foldable Laptop Stand Desk Table Pwr+ Portable Laptop Table Desk Vented – Fully Adjustable-Ergonomic-Multifunctional MacBook-Notebook-Black Light Aluminum Bed-Tray-Book-Stand Fans – Up to 17″
Fixed-Height Standing Desk Converters
Two of these are cardboard, but they still get very high praise from the people who use them. They key here is that you have to figure out beforehand what height would suit you. Luckily, my notes on research in the next section include a good idea for calculating that.
 Rapahan Large Aluminum Folding Laptop Desk, Beech Spark by Ergodriven | The Perfect ORISTAND Standing Desk Converter – Portable Stand Up Desk for Laptop and Computer Workstations (Black)
Some Research on Sitting, Standing Desks, and Health
Being a librarian by background, when I started researching the health risks of sitting too much at a desk, I soon had a gazillion tabs open on my browser. Here are four of the most useful and interesting resources I found:
A Free Standing Desk from Something You Have?
Based on that article about the proper height for a standing desk, I wandered around our house with my arms out in front of me at a 90-degree angle.
In the home office, the bookcase was too high, and besides that is how the cat goes up to her perch to watch the birds outside. In the living room, the mantelpiece was just a tiny bit too high. In the dining room I had high hopes for the passthrough to the kitchen, but it was too high. The kitchen counters were just about right, though. Hmm, how healthy would it be for me to work in the room where the snacks are? Not promising.
But then I went into my sewing room… BINGO! The table that Kelly just installed is the perfect height! I will try it out for a couple of weeks before spending any money. If taking my laptop out to my sewing room isn't ideal, I think I will go for a variable height standing desk converter, right on my desk in our home office. I've certainly become convinced of the health benefits of even an hour or two a day of standing at my laptop instead of sitting.
Here is my laptop on the sewing table… it happens that Kelly built the table over a floor with two levels, thus inadvertantly creating both sitting and standing workspaces:
Whatever You Do…
Move around more!