Stainless Steel Kitchen Bowls: So Useful and They Will Outlive Us All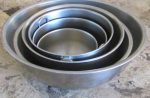 I've got seven stainless steel kitchen bowls, a set of three small ones I got at a yard sale in the 1960s, a medium-sized one, and a set of three quite large ones.  I use several every day. My largest one holds 8 quarts, as does the largest one in the set to the left below us. The middle two sets in the illustrations come with lids, which certainly could be handy. (I doubt the lids would outlive us, but who knows or cares?) And the one on the right end could certainly be handy at times, with the handles and pour spouts For example, I just went into the kitchen and filled up my largest stainless steel bowl with 8 quarts of water, to find out what it held. A pour spout would have been nice after that project.
These popular ones are on Amazon:
 6 bowls with flat bottoms Cuisinart set of 3 with lids Non-slip, 1 Qt., 1.5 Qt., 3 Qt. & 5 Qt. With handles and pour spouts
&
Stainless steel bowls make great gifts. That's how I got my three large ones, for Christmas in 1990 or thereabouts, as a gift from my husband. They turned out to be my favorite gift that year. Here is my total set, minus one large one we keep in the motorhome. They look pretty darn good for all the years and all the projects that have passed through them!
I use the bowls in so many ways:
Take them out to the garden for harvesting..
Use one as a temporary extra sink, for dishes or a quick handwash of some clothing
Thaw meat from the freezer
Keep them handy when someone is nauseous
Store food in them
Take one or two along in an RV or on a camping trip
Knead bread in the larger ones
Take salads or other cold dishes to potlucks
Put a bunch of small things in one when I'm cleaning out a drawer
Use one as a hat when I'm running outside for a minute in a light rain
Mix up homemade pet food in one
You get the idea. Preparedness uses for stainless steel kitchen bowls could go further, like boiling water over a campfire. I won't even speculate how zombies could use them!