Gardening in Smart Pots: Sturdy, Easy to Use, and Cheap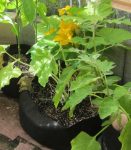 I have been gardening in Smart Pots for over 3 months, and here is my review of the pros and cons of using them for container gardening in greenhouses and outside. You may have heard of Smart Pots as a form of slow cooker, but here I'm talking about something different, a sturdy fabric bag used in the garden. This kind of Smart Pot is widely available, inexpensive, and good for gardening. I've been very happy with the ones I've used, and I think they make gardening easier and more versatile. In a rush? Would you rather browse Amazon.com for them than read the rest of my prose? Click here. Otherwise, read on to see if these would meet your needs.
What ARE Smart Pots?
They are bags made of a fabric that lets air through. I wondered if my plants might dry out too quickly but they didn't, even in our greenhouse which gets quite hot on sunny afternoons. Of course, I was watering everything quite often. These bags, which come in sizes ranging from one gallon to a thousand, were developed for commercial tree growers and are also used now by many home gardeners. The bags can be used for many years.
The feature that fascinated me was that when the roots get to the edge of the bag, they don't tend to circle around like you see in a plastic container. The air can get through and this evidently makes it easier on the roots and they make more side roots. I haven't taken up any of my plants to see the results, but if I do, it will be with a camera in hand.
My Experience Gardening with 9 Smart Pots
We are gardening for the first year on our property, a large urban back yard in the mountains of southern New Mexico. My husband built a greenhouse and I've been the main person using it while he's mostly been creating beds outside. Here's an article I did on container vegetable gardening.
So I got some Smart Pots, placed them around the greenhouse, filled them with organic potting soil, and planted them with a variety of seeds… bell peppers, squash, eggplants, a lettuce mix, asparagus. Everything came up nicely and is growing well. Here is a photo (sized for Pinterest, if you are into sharing that way!) of the squash plants, with a pretty good sized pale eggplant in the bottom right: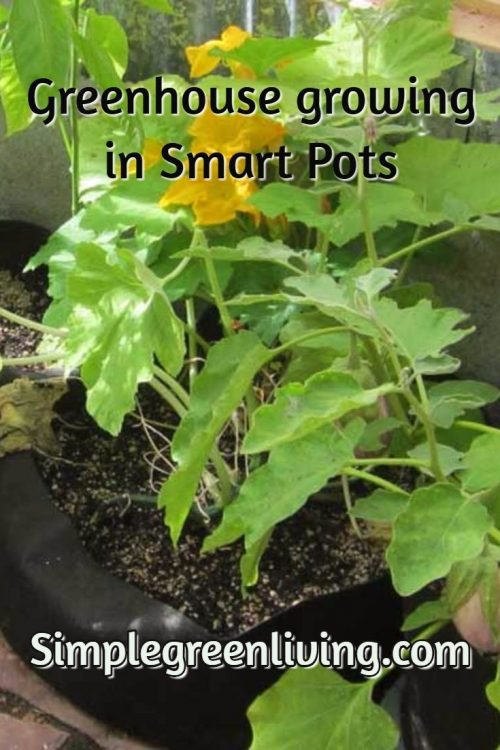 We had bought a fig tree at a local home and garden show, and at first we were going to plant it in our yard. But a neighbor warned us that it could get rather cold for figs here in the winters, and we decided to keep it in the greenhouse in a large Smart Pot. We got two beige 45 gallon Smart Pots at Amazon.com, and we filled them with a lot of good organic potting soil and some compost.  Kelly and I planted the fig tree in one bag… it's on the upper right in this picture. I tried an experiment in the other bag. I had some purple sweet potato starts that interested me because you can cook the greens as well as the sweet potatoes. Here, you see them just getting going.
And below are the same two bags a couple of months later. The fig tree has grown an astonishing amount and we've already eaten a few delicious ripe figs… you can see more near the top of the little tree. The other day Kelly trimmed it back where it was about to hit the top of the greenhouse. It's got two side branches so it will make more of a bushy tree, we expect.
The sweet potato has been making a lush array of leaves, and I've been picking some to use in stir-fries. I haven't poked down into the bag yet to see what it's up to there. Later.
There are some places alongside the south wall of our house that I would like to try Smart Pots but Kelly was stuccoing that wall, so I will leave that project for another time. I did put two 10-gallon Smart Pots out in the wilder part of the garden, where they would get watered daily by our automatic sprinkler system. I had more sweet potato starts so I put them in the bags. ( Our garden soil is not great yet.) They are alive though not quite as lush as the ones in the greenhouse. Here is one of those bags:
So that's my nine Smart Pot bags in use. There would be more if I hadn't given away bags to various friends. Luckily, they are inexpensive enough, and easy enough to carry when folded up, that giving them away is fun. They don't have drainage holes in the bottom and they don't need them… extra water just drains out through the fabric.
Many Sizes, Two Colors
Here is a chart with a selection of the bags at Amazon. In some cases, if you click through, there may be a choice of colors and sizes on that page. There are certainly lots of interesting reviews and questions and answers.
 Smart Pots 5-Gallon Smart Pot Soft-Sided Container, Black Smart Pot Soft-Sided Fabric Garden Plant Container Aeration Planter Pots, 5 gallon, 5 Pack, Black Smart Pots 15-Gallon Smart Pot Soft-Sided Container, Black with Strap handles Smart Pots Big Bag Bed Fabric Raised Bed Smart Pot Soft-Sided Fabric Garden Plant Container Aeration Planter Pots, 2 gallon, 5 Pack, Black Smart Pot Soft-Sided Fabric Garden Plant Container Aeration Planter Pots, 3 gallon, 5 Pack, Black Smart Pot Soft-Sided Fabric Garden Plant Container Aeration Planter Pots, 1 gallon, 5 Pack, Black
&
How Much Soil Mix You'll Need
It's useful to know beforehand what you will need, unless like us you just buy potting soil whenever you run out. On the Smart Pot website here is a chart that says how many cubic feet and how many cubic yards you will need for each size of bag… scroll down partway on the page. The soil in your yard might work, I suppose, though ours isn't good enough.
By the way, you can keep using potting soil year after year. Just add some good compost mix each time.
Competitors to the Smart Pot Brand
I have never tried any, but they are out there. According to the Smart Pot people, some of the copies are inferior. No surprise that they would think so! Here is one competing brand at Amazon that people seem to like: GardenMate 3-Pack 5 Gallons Planting Grow Bags Made Of Growth Friendly Felt.
However You Do It, Container Gardening is Great!
I'm in favor of whatever gets people gardening. For many people, container gardening is easier than having to prepare a lot of garden space and water it. Or apartment-dwellers may be limited to containers. (Just be sure not to let your pots drip onto the porch below you… use a small kids' swimming pool or whatever works to keep the water in your space.)
Within the world of container gardening, I've tried regular planters and self-watering containers. Those are fine but so far my all-time favorites are the Smart Pots.