The 10 Best Vegetable Gardening Books to Buy Now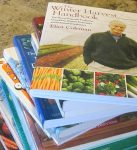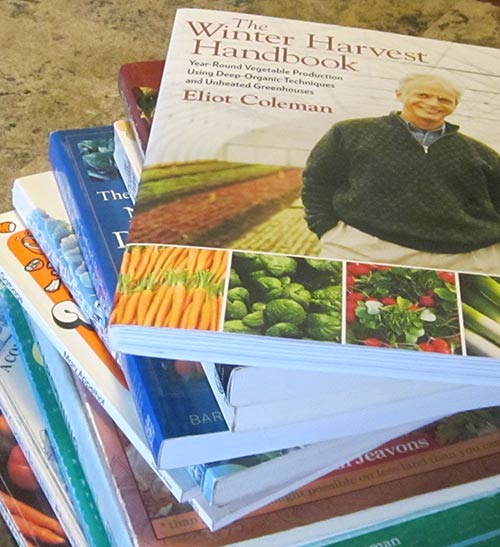 Gardening books are a great resource. I want mine to be paperback, so I can read them over lunch, take them someplace, lend them to friends, look at them  while sitting on the sofa with my husband, and refer to them in all situations. Here are 10 of the best vegetable gardening books I know,  not in any particular order.
I chose these books based on three main factors:
Whether the authors seem to have spent as much time gardening as they did writing.
My knowledge as a librarian of how to ferret out what the most popular  garden books are.
Which books I refer to the most in my own gardening activities and which ones I would most want to have available if gardening in difficult situations.
My Picks for the 10 Best Vegetable Gardening Books
Clicking on the book cover images or the titles below will take you to Amazon in a new tab.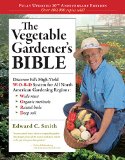 Edward C. Smith has devised the W*O*R*D method for gardening. That's
Wide rows
Organic Methods
Raised beds
Deep soil
I like a gardening book with an A to Z list of veggies, so I can look up one I'm thinking about. This best-selling book has that plus a lot more.
Smith and his wife live in Vermont, so you can be sure that cold-climate methods are covered. His clear, common-sense writing style is good for beginners, but doesn't talk down to experts.
Many people feel that if you were to only have ONE gardening book, this should be it. I can't imagine only having one, but this one sure covers a lot of topics that you may not find elsewhere. Great pictures too!
When I got fascinated by container gardening recently, I bought another book of his,The Vegetable Gardener's Container Bible: How to Grow a Bounty of Food in Pots, Tubs, and Other Containers, and I read it cover to cover, twice. I did lend it to one of my best friends, but only after we made a date for her to come over for dinner and return the book then! (I used to be a librarian, and certain impulses stick around.)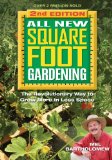 Square foot gardening is a very specific and easy way to garden, once you get started. The first version of this book came out over 30 years ago, and I started to write that I still have my dog-eared version. But… no, I don't! Must have lent it out.
Not to worry, there are significant improvements in this recent second edition. For one thing, Mel Bartholomew now advocates putting 6-inch-deep wooden boxes on the ground, either with bottoms on them so they can be moved or on top of a barrier. So no more hard digging.
You then fill the boxes with what he calls "Mel's mix" which is vermiculite, peat moss, and a combination of several kinds of compost. No fertilizer needed.
Any book that has sold over 2 million copies (as the cover states) is worth a good look!
He also has a website which is naturally www.squarefootgardening.com and it has a forum, a blog by Mel, and this ten-minute video: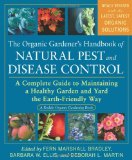 Despite the long title, I need to add that this book is also handy for the plant-by-plant growing tips it has. The book is organized into four parts:
Part 1: Your Healthy Garden — a chapter on how to promote plant health
Part 2: Symptoms and Solutions — a long plant-by-plant guide
Part 3 — Identifying Pests and Diseases — includes a section on the natural enemies of pests
Part 4 — Organic Pest and Disease Management — choosing the best strategies, biological controls, organic sprays and dusts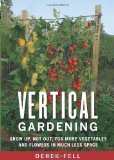 Derek Fell has been gardening since he was a child and he has been doing space-saving vertical gardening for many years.
An award-winning photographer, Fell provides information that may entice you to garden in a vertical manner if you haven't tried it before.
With more and more people wanting to garden in small yards, this book is pertinent. It's not particularly strong on step-by-step how-to details of making vertical supports, but its other strengths make up for that. Another issue, which you can see by using the "Look Inside This Book" feature at Amazon.com, is that the typeface is not black but gray and thus harder to read. A lot of the book provides basic gardening information.
This book covers all the usual gardening topics plus two: chickens and how to make money by selling what you raise on your mini-farm.
What about that quarter of an acre mentioned in the title?  There's a brief discussion of how this can work. He says (on page 16) "Using intensive gardening techniques allows… 1/4 acre to provide nearly all the food for a family of four, generate thousands of dollars in income besides, allow raising small livestock plus leave space for home and recreation." Makes sense to me as my husband and I live on 1/4 acre in a town and I could see doing all that. By livestock he means chickens.
I do like this book for being a good overview of possibilities!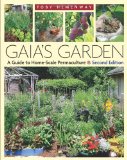 We have been reading and re-reading this book, as we are using quite a few permaculture-style methods as we develop our large back yard.
Permaculture is a complex system with many elements, and this book does a great job of explaining it. The key point is working with nature. A couple of the topics that have inspired our actions:
Making the best use of rain and any other water on your property… Kelly has dug swales across the yard so that water soaks in much better.
Creating food forests of a diversity of plants: we've planted fruit trees and other trees, with plans to take advantage of their shade
This book is probably the best one out there on permaculture for the general reader.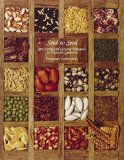 We save a lot of seeds from the vegetables we grow, and a lot of what we learned about how to do it came from this book.
The first part of  Seed to Seed covers what heirloom varieties are and explains briefly how hybrid varieties have come to dominate the market. (Seed companies create them and they sell for more money than heirloom seeds and can't be used for replanting.) Then this section goes into detail about how to save seeds and how to store them.
The main part of the book goes through all the vegetable families, plus some families that are only partly composed of edible veggies. For every plant, there is a detailed description which may give you some ideas for things to grow. Topics covered on a plant-by-plant basis include
Botanical classification
Pollination, crossing, and isolation
Seed production, harvest and processing
Seed viability
There's a lot of good reading here! We almost never buy hybrid seeds any more.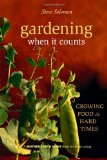 Reading this book is like sitting down with a favorite uncle who's very knowledgeable and very opinionated. Steve Solomon has good reason to be both: he started Territorial Seed company which did extensive field trials.
After he sold the company, he experimented with growing vegetables spread out rather than intensively. He had started that with the field trials, where it was necessary, and he makes his case well that non-intensive growing is better.
Something I learned from reading the book is that you can get more nutrition from growing potatoes and sweet potatoes than from growing cereal grains.
As the subtitle of the book indicates, it's a top-notch resource for anyone gardening seriously to feed themselves and their family. He makes good arguments against clay soils, and in the past I have fought with clay enough to cheer at this section. Detailed information on things like how to sharpen a shovel are invaluable. I specially enjoy the diagrams of how roots grow.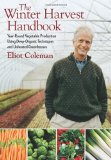 I bought this book when we still lived in chilly Colorado, at 8,000 feet and with a three-month growing season.
Eliot Coleman does conventional gardening in the summers in Maine, where he lives, and then in the winters he grows cold-hardy crops in unheated greenhouses and sells them locally.
The Winter Harvest Handbook is useful for anyone who gardens in a cold climate. Now that we have moved to southern New Mexico, it's not quite so necessary for us, but I'm not getting rid of it. You never know when you'll pick up a book and get the answer to something you've been wondering about!
I love this title and love the results of composting. The first edition of this book came out in 1975, and it's very clear and comprehensive. Composting can be done in many different ways, and this book provides you with many ideas:
Chances are good that no matter what you do, you will end up with usable compost.
Experimenting is good.
You can compost things you never thought of.
How to mow your lawn to get the best compostable trimmings
Adding activators can speed up the process, and there are things you can do that will also speed it up.
You can compost in all sorts of bins.
When a pile becomes too moist, it needs to be turned.
Leaves are excellent in compost piles partly because deep tree roots provide trace elements for the soil.
Leaves are also rather slow to break down by themselves, but will compost much faster when combined with manure or other things.
Worm castings look like coffee grounds.
A classic book on worm composting deserves a mention too. Here's my review of Worms Eat My Garbage.
Suggestions if You Want to Get a Few Books
It depends on what you are planning to do. A little or a lot? Becoming an expert or just getting by? Preparing for worst-cas scenarios or just trying to save some at the grocery store?
I've tried to give you a sense of what each book can do for you. If you aren't sure about one, maybe your public library has it. Or take a look at the further information available by clicking though on the book cover images. Whatever, I hope you find the best vegetable gardening books for your interests and needs!