How to Add Spice to Your Cooking with Mina's Guidance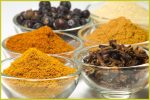 I love cooking with spices and it's a great way to make simple meals special.  Recently I came across a website which is giving me a lot of ideas about cooking with spices. Mina Joshi teaches vegetarian Indian cooking in the U.K. but you can learn a lot from her website Givemesomespice.com. I'm not a vegetarian but we do eat a fair number of vegetarian meals and I think we will eat more since I discovered this site. Die-hard carnivores could easily add meat to many of these dishes.
Want to know more about Indian spices? She explains them at that link.
The most beautiful and inspiring page on the site is  her Recipe Index with little images for each recipe there. I tried to count them but there were too many, divided into categories:
Accompaniments
Breads
Fasting
Ingredients
Main Course
Mirage Series (Easy to make dishes)
Pickle
Rice
Snacks
Soups and Dahls
Starters
Sweets
I'm not sure if some recipes are in more than one category or not. With all that, don't be impatient if the page takes a bit of time to load. Once it does, yum!
Here are a few of the recipes I was drawn to.
Carrot Soup — We have lots of carrots in our garden now…hmm.. we have the spices too
Garbanzo (aka Chickpea) Salad — We have lots of mint and basil in the garden too. 
Home made Paneer I didn't know what that was, but I bet I would love it!
French bread pizza Very quick and easy, with some spices I wouldn't have thought to add
Spicy Yogurt Dip — Where she says rapeseed oil, that's what is called canola oil in the U.S. I don't cook with it but will use walnut oil which is similar in not imparting flavor.
Spice Mix for Make-Your-Own Chai Masala Chai , as it's often called in the U.S., is my favorite way to drink black tea, and I have strong opinions both pro and con about the commercial versions. Will definitely use this recipe as a basis to make my own favorite mix!
Well, I guess I'll be busy! We have some good friends we get together with for dinner every week, alternating homes. Next time it's at our house, I think I'll try some of these recipes, or others, from Mina's Givemesomespice.com That will certainly add spice to our lives.