What About Getting a Shingles Vaccine Shot?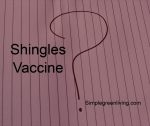 I went to a new doctor recently, and one of the questions she asked me was whether I'd ever had chicken pox. I said, yes, when I was about 8. She asked me if I'd had the shingles vaccine, and I said I had wondered about it but hadn't had the shot.
She recommended the shingles shot because I had had chicken pox, and I said I would consider it. That was a shortcut way of saying I would do some internet research on it.
So this morning I went online to see what Dr. Andrew Weil said, as I remembered reading that he recommended the vaccine. He is a physician whose books I have learned a lot from. And he did recommend the vaccine, partly because he himself had had an unpleasant bout with a moderate case of shingles.
His page on shingles was very informative. He said what I had read before, that shingles is caused by the same virus that causes chicken pox. The virus can remain dormant in the body for decades and then it may come to life and produce the painful condition known as shingles. It often lasts 3 to 5 weeks but can be less… or more. People whose immune systems are compromised are more at risk.
His article describes conventional medical treatment to handle the pain and itching, and it adds that acupuncture, hypnosis, and creams made with capsaicin, the stuff that makes red chili peppers hot, can also help with symptoms. Here are a couple of those, available at Amazon.com without a prescription: Zostrix or Capzasin-P.
Regarding the vaccine, it's called Zostavax and it works on roughly half the people who receive it and it may reduce the symptoms in other people. The side effects he describes are pretty mild, mostly at the site of the shot. It's expensive, he adds, around $150 to $200, though insurance may help. He ends the article by saying he is inclined to recommend it UNLESS you have certain allergies he mentions. I did once have one of those.
Next, I found an article on shingles at Mercola.com. I do like this site for its unusual ideas, but I don't automatically follow its advice. (I don't automatically follow anyone's advice!)  Well, this article said in the second paragraph that having had chicken pox "may significantly lower your risk of developing shingles." That surprised me. Further down the page, it maintains that "exposure to the chickenpox virus is like getting a shingles vaccine shot." Hmm. Wish there had been a footnote there.
If you have shingles, the article mentions one remedy, applying raw honey to the irritated site several times a day. Honey that has been processed or refined, like most grocery stores carry, is no help.
The article continues with a detailed analysis of the shingles vaccine and is worth reading. I checked out one of the footnotes and it led me to a page about shingles at the site of a non-profit group called National Vaccine Information Center, which advocates informing yourself before using any vaccine. Here is their page on shingles and the shingles vaccine. To quote a bit that jumped out at me,
Using the MedAlerts search engine, as of September 1, 2015 there had been 1,141 serious adverse events reported to the Vaccine Adverse Events Reporting System (VAERS) in connection with shingles containing vaccines since 1990.
Back on the page at Mercola.com, there are recommendations for how to strengthen your immune function, things like limiting sugars and grains, getting enough exercise and sleep, managing stress, and more. I already do most of these and think I will do even more.
So what to do? You may guess what my choice will be, just from reading this article, but I do believe that people need to make choices like this for themselves. We are all biochemically different. The links in this article can give you something to think about and of course Google can provide you with many more. If you are on Pinterest, this image is sized for posting to it: