Tranquility Good for the Spirit… By a Lake, Even Better!
Ah, tranquility! How much of it do you get? I'd call my life interesting and generally enjoyable, but only rarely tranquil. This week we started up the motorhome (unlike on my birthday last month) and went to a nearby lake for a couple of days with our dogs. There we met up with friends and had a great time gazing at the water, going out in their canoe, sharing dinners, going for long walks with the dogs, and not going online because we couldn't. The weather was heavenly, the fall colors coming out on some of the trees.
By going to the lake (Bill Evans Lake, less than an hour from our home in Silver City, NM) during the week, my husband Kelly and I and our friends had the place to ourselves quite a lot. We chatted with some of the other people who came for shorter times. They fished, had picnics, walked, and soon left.
Gazing at water is one of my favorite things to do. We've found many water views in the vans, buses, and motorhomes we've lived and traveled in. See Kelly's book, Rolling Shelter: Vehicles We Have Called Home for more about them.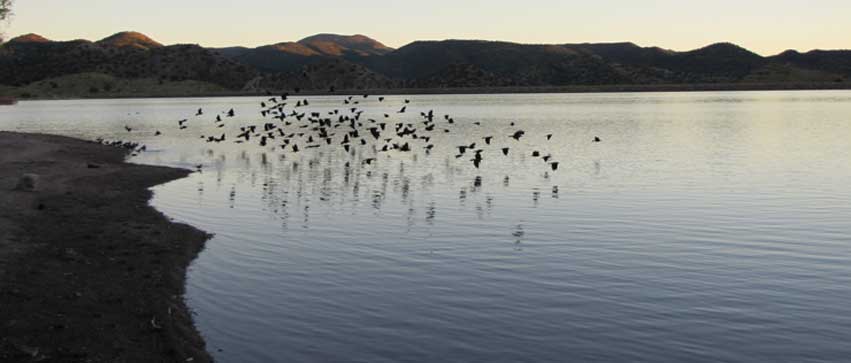 Our friends had brought their three-person inflatable canoe, and both Kelly and I got great rides. Here, they are starting out with Kelly on an afternoon with a bit of a breeze: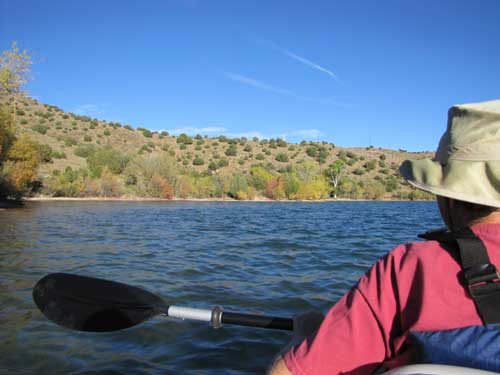 I stay out of the sun during the middle of the day, and I had a good time writing in a new journal. I also finished reading an absorbing book by Joanna Macy, Widening Circles: A Memoir. When we got home, I looked her up online and at 87 she is still leading workshops. I had taken one from her once, and in the years since, her enormous love for life has kept her doing many things, including thinking about the long-term effects of the nuclear power plants all over the world and how shortsighted the human plans are for storing the wastes. See her website at JoannaMacy.net but don't expect to stay tranquil if you read that part. I didn't go there until we were back online at home yesterday, and I did know what to expect from that workshop. She is inspiring.
Reflections on RV Living
As Kelly's book that I mentioned shows, we have spent a lot of time living and traveling in various vehicles. Winter before last, we left our home in Colorado before Thanksgiving and headed south, spending half a year meandering around New Mexico State Parks on an inexpensive annual pass. I blogged about that trip on this website and that link goes to the category for those blog posts.
On that trip, we considered full-timing, that is, making the motorhome our full-time home. We didn't, partly because we are passionate about gardening, but that trip did lead us to move to a better gardening climate! We've done a lot of gardening this year… we bought a place with a quarter-acre yard, mostly behind the house, and it's been absorbing.
It was fun to be back in the motorhome for this short trip, but when the water filter leaked and Kelly fixed it just before bedtime, I remembered how essential it is to have someone who can do such things, especially if you have an older rig as we do. The only water source at that simple campground was the lake, and we would not have wanted to run that water through our pipes.
No doubt, it's easier living at home in a variety of ways. And it's great to take a break and get out into nature. The birds, the trees, the water will stay with me.
If you are on Pinterest, here's a pin, sized for it…