Sumner Lake, Our Favorite New Mexico State Park
We've been camped at Sumner Lake State Park for over a week now, and we love this place. Most nights, our solar panels have given us enough power that we've been able to stay right by the water's edge. The weather has been nice enough for us to be outside more, but even when inside, we're happy with water views from every window in the rig. "It's soothing to the soul," Kelly said.
Kelly has been roaming around with his camera, and here are a couple of the results: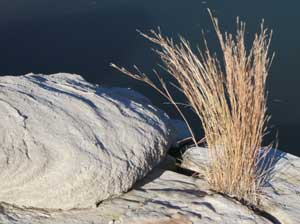 I've found myself gazing at the water and feeling so calm. Not exactly my natural state! It's just so peaceful here. We've been walking the dogs along the shoreline and up through the campsite areas that look down on the water. Even though this is a smaller state park than some we've been to, we've been walking more. It does help that the goatheads aren't as bad here, so the dogs are happier walking.
One day we went out walking with a Canadian couple we'd met at another campground and then happened to meet up with again here. Susan and Art have been fulltimers for over a decade, spending half a year roaming the U.S. and half a year in Canada–just about all the expat Canadians we knew in Mexico did the same thing, to keep up their Canadian health care. Anyway, these two hike, ride their bikes, and satisfy their love of travel and of seeing new places. Susan has had many different kinds of dogs, and she enjoyed walking our Lola, while I think Kelly enjoyed a break from it! She and I and the dogs led the way, while the guys followed behind. She's a dedicated walker, a good fast 5 miles a day her norm, and at one point she and I pulled out our pedometers, and we both had the kind I've blogged about, Omron.
Now before you get the idea that this is the most peaceful spot on earth, consider what it might be like on the 4th of July weekend, with people boating and fishing everywhere. Lots of family fun in that season… I expect there would be quite a few RVs and tents filling up this lovely point that we have had to ourselves! Here and now, it's heavenly tranquil.
The Hard-Working Park Rangers
I asked Raymond Drake, the Park Superintendent, to describe this special place. He's been here 18 years and lives at the park, so he should know! He mentioned that the park is unique in the different types of wildlife that they see here, and Paul (didn't get his last name), another ranger who has worked here 13 years, showed me a few photos he'd taken around the park, of deer, foxes, and more. Sumner Lake has boating, fishing, camping, swimming, and Raymond said they consider it to be a very family-oriented park. There's a great playground, constructed mainly of recycled materials.
Raymond added that the park is on a natural flyway for waterfowl migration, and he gave me a piece of paper with a chart listing many dozens of birds and whether they are abundant, common, uncommon, occasional, or rarely seen. You can get a copy of this paper at the park office. It's open when one or more of the three rangers isn't out working around the park. I've mentioned two of them; the third is Chris (again, I didn't get a last name), who has been here two years. He explained to me that the way the state park system works, you can apply for a park you want to work at, and the system won't move you away. I would have guessed that about Paul, who told me the story of how when he was a boy, he'd walk to the lake and go fishing from the town he lived in, Fort Sumner. That town is 16 miles away, but probably a shorter walk along the river! His parents let him leave after school on Friday, but he had to be home for church on Sunday.
We went into Fort Sumner last Saturday, to do laundry and get groceries. We happened to be there on the day of their annual Winterfest, so we had a delicious chili lunch and strolled through the exhibits. People were exceptionally friendly and we had a number of good conversations.
People Who Live Near the Lake
At the Winterfest, I said to one of the craftswomen that we were camped out by the lake. "We live by the lake!" Joyce Boardman exclaimed. She and her husband love it there. They live high on a hilltop, with expansive views. Yesterday she came and picked us up and drove us around the little settlement. It began in the 1930s when WPA workers lived there as they built the dam. Eventually, the homes passed to private ownership but it's the classic New Mexico mix of falling-down old places and nicely kept up ones.
There's a brown house that we see from our camping spot, and Kelly and I had agreed it had to have one of the best lake views. Turns out that it belongs to one of Joyce's daughters. She wasn't home, but Joyce took us by there, and Kelly got this photo.
Then we went up to the hilltop where Joyce and her husband Hawk live. There's a holiday-lights competition going on, and Hawk had been busy:
We'll be driving further south soon, with lots of memories of Sumner Lake and the people around it. I have a feeling we'll be back, maybe in the spring on our way north. One of the things I love about travel is how much gets packed into a short time, and that's happened here, at a leisurely pace.
Here's another group of photos about Sumner Lake, all taken by my husband Kelly recently.