Five Down-and-Dirty Details of RV Living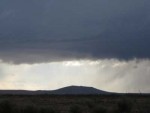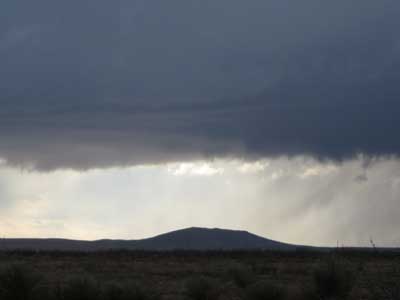 After almost two months of roaming around New Mexico in our motorhome, I'm all too aware that some aspects of this trip aren't exactly blissful. Since friends and family have been telling us how lucky we are, I thought I'd balance out the joys with a few things they likely haven't considered. So here are five down-and-dirty details, using the expression in the meaning of crudely basic…not in the sense of bawdy, sorry!
I'm not complaining (much), just saying…
1. We rarely take showers.
This is the point that made me realize I'd better do a blog post on the harsh realities. When we first set out, our shower stall was full of things we hadn't organized yet. Now those things are put away, but often there is a bunch of hand laundry hanging soppily over the bathtub. Yes, we actually have a full bathtub, though neither of us has taken a bath yet. (See detail #4.)
Sponge baths do keep the aromas down, and I've become a fan of moist wipes. But overall, I have taken fewer showers per week (not quite one a week average) than at any other time in my life.
We do have access to the bathrooms of the New Mexico State Parks where we camp. The showers tend to the tepid temperatures and it's wintertime. One exception to the rule is Rockhound State Park, just outside Deming, where the showers do run a little warmer.
2. Sometimes we can't find a good place to stay.
For example, last week we left Poncho Villa State Park outside of Columbus, New Mexico, as our allotted two weeks were up. We drove half an hour to Deming and did grocery shopping and other errands. It was mid-afternoon by the time we got to Rockhound, but we found a nice site with electricity and water. But then we were told that it was reserved and by then there was only one other electric site available, and it was just for one night. Even the group camping area was reserved; they often put overflow there but three vans of young people were on their way from Texas to do some mountain climbing.
I was tired, I was grumpy. I was not pleased. "What the heck," I said. "Can we get by without an electric hookup?"
"We should be okay if it stays sunny," my glass-half-full husband said.
We looked at the section of non-electric sites but the two left were not choice. Well, it happens that we own a piece of land near Rockhound that we bought many years ago for a pittance at a tax auction. It has nothing on it but a minimal driveway and the grave of Teddy Bear, our Australian Shepherd who died the year we were full-timing in the area, back in 1997 or so. So we went and camped there, and it was fine.
Then we came back to Rockhound after friends who were camping here snagged us our absolutely favorite spot in the whole campground, #13, simply by asking the people in it when they were leaving. We'll be in it for a good while yet. We learned last night that the winds really go wild at Rockhound. I felt sorry for the young mountain climbers in their tents.
3. When the weather's bad, the inside of the motorhome gets smaller.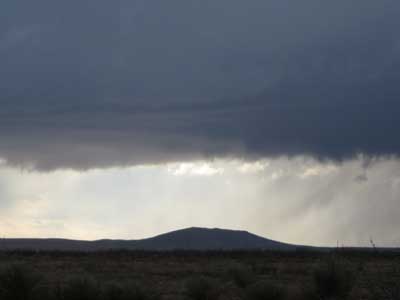 Seems to be a law of physics. We've had a lot of howling winds. Oh, I guess a related detail is: When it's time to walk the dogs, the wind picks up.
4. The black water has to be emptied.
So does the gray. And the rig needs regular infusions of fresh water, sunshine or electric hookups, gasoline, and propane.
Almost all the campgrounds have dump stations, and some of them have campsites where you can hook up to the sewer. Those cost $4 more than the electric, so we haven't tried them. Sure, $4 now and then wouldn't break the budget but we are already spending $4 most nights for electricity, as our solar panels aren't quite enough on these long, cold nights. Almost every site has water.
We're learning to juggle what we need and how long we can postpone getting it, even though one or two of the gauges are inaccurate. Still, we haven't run completely out of anything or overflowed anything so far. In many small towns, the only time you can get propane is very early in the morning or maybe just before closing, because during the day nobody is in the office and the propane trucks are out doing deliveries.
Gasoline is easily found, of course, and it's great that we happen to be making this trip as prices plummet, but we aren't getting the miles per gallon we hoped for. Kelly scowls over his spreadsheet.
5. We and our dogs are getting to know each other very well indeed.
After 40+ years together, I really did think I knew Kelly well. How is it that I never noticed his perfectionism? At least not to the degree that I've seen it when spending so much time so near each other? I just asked him for an example of something he hadn't noticed about me and he said, "Your method of getting onto the toilet seat just broke it." I don't think I'll tell that story.
The most annoying up close and personal detail isn't a quirk of Kelly's or one of mine. It's that our rescued Sheltie-Papillon dog barks and barks and barks. He barks at other people walking around the campgrounds. He barks at vehicles going by our campsite, and worst of all he barks at all the other dogs he sees. This wasn't exactly a surprise but it's been worse than expected. So far, the best we've done is to be sure he gets very long walks twice a day, no matter the weather.
Lola, our Rottie, is a saint by comparison, though she has developed the habit of of plopping her large body directly in front of the heater.
Would we rather be home in Colorado these January days? No way!