We Found the Best Kitchen Scissors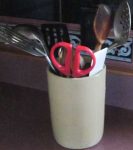 Four years ago we bought a pair of Joyce Chen kitchen scissors and a pair of Henckel kitchen shears. Despite very heavy daily use on the scissors and plenty of use on the shears, both are still sharp and going strong. Here I'll be talking about why I think they are the best kitchen scissors and the best kitchen shears respectively, and I'll be mentioning some other good choices in each category. I'm left-handed and my husband is right-handed and both these items work equally well for each of us.
In a hurry? You can get the Joyce Chen Unlimited Scissors here
and the J Henckels Kitchen Shears here.
Our Joyce Chen Kitchen Scissors
We come from all corners of the house and yard to grab these scissors, despite having other kinds in practically every room. "Did you leave the red-handled scissors someplace?" one of us may have to ask the other. They are small and yet we know that they will do the job. Maybe it's time to buy another pair for the home office! As these scissors come in red, blue, yellow, and white, I'd get another color. But then, I don't mind tracking down the red ones and getting a break from my desk.
The Joyce Chen line includes high quality woks, stir fry utensils, bamboo, and more. Chen herself was one of the great popularizers of healthy Chinese cooking in the United States, and her family continues the tradition.
Why do I say that these are the best kitchen scissors I've ever had? Well, they fit my hands well yet also fit my husband's. As a lefty, I like being able to use the same scissors as my right-handed partner. The red handle is easy to see wherever the scissors are. Of course, none of this would matter if they weren't simply great scissors, cutting through whatever I use them for. I snip herbs into a salad or into a dish cooking on the stove. I open plastic wrappings, like the ones so hard to get off cauliflower! I don't often cut sheet metal but plenty of people do. If we hadn't bought the Henckels kitchen shears at the same time, I would be cutting chicken with these, but I've got the habit of using the shears.
&
Our Henckels Kitchen Shears
We got these shears before we knew how powerful the little Joyce Chen Unlimited Scissor was. We use our Henckels kitchen shears for cutting chicken and other meat, slashing open dog food bags hastily before the dogs have time to help us, and other such tasks. They have held up very well. The shears, that is… the bags are history!
&
Other Popular Kitchen Scissors and Shears
The Amazon Basics product line consists of items where Amazon has evaluated other products and come out with their own version. The ones I've purchased have been well made and inexpensive. The first item below I haven't tried but I'm sure it's worth a look. As are the other three…
 AmazonBasics Multifunction Come-Apart Kitchen Shears KitchenAid Shears with Soft Grip Handles, Black OXO Good Grips Multi-Purpose Kitchen & Herbs Scissors/Shears Kitchen Scissors By Simple Health,Stainless Steel, Life Green
&
So here they are, taking a well-deserved rest on our kitchen counter: the best kitchen scissors and shears we've ever had!