Why Make Sauerkraut in a Jar?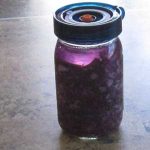 Why make sauerkraut? And if you are going to make it, why make sauerkraut in a jar?
I've recently started keeping one jar fermenting as a regular thing, and here I'll tell you how I have learned to make sauerkraut in a mason jar. It's quick and easy to get it going, but not exactly quick until you can eat it… it needs to ferment for maybe a month. But it's worth the wait.
Now, there is sauerkraut as a side dish on the table frequently when we eat. Besides being tasty, it has health benefits in aiding digestion. That's part of why fermenting foods is becoming much more popular.
I Started with a Vegetable Fermentation Kit
My husband has been making homemade buttermilk for years, and I've made yogurt, but I hadn't really gotten into fermenting veggies until I happened across the mason jar vegetable fermenting kits that are on Amazon.com. Well, we use wide mouth glass jars for all sorts of things and we have dozens of them. You could also use regular mouth jars. So the idea of using canning jars got me hooked and for Christmas last year our main family present was these three purchases: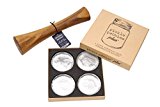 [1] This kit: Masontops Fermentation Tool Set PLUS – Wide Mouth Glass Fermentation Weights and Vegetable Tamper. This turned out to be a great choice. I love using the tamper, and the weights that you put in the tops of the jars are very handy also . The company, Masontops, also makes a kit of these things plus their special lids, but I had gotten interested in a different lid, the next thing on this list…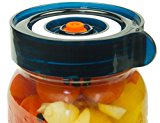 [2] The lid from another company: Easy Fermenter Wide Mouth Lid Kit: Simplified Fermenting In Jars Not Crock Pots! Make Sauerkraut, Kimchi, Pickles Or Any Fermented Probiotic Foods. 3 Lids, Extractor Pump & Recipe eBook – Mold Free
I was a sucker for the built-in date tracker on the lid, and I do like using it. Also, I just liked its looks! I bought 3 of these lids plus the extractor pump… haven't tried that pump yet.
[3] This book:
Fermented Vegetables: Creative Recipes for Fermenting 64 Vegetables & Herbs in Krauts, Kimchis, Brined Pickles, Chutneys, Relishes & Pastes.
Well, I admit it, I'm addicted to books and this one has lots of great ideas!
Good bedtime reading too. But not absolutely essential… read on for the booklet I'm using.
Making Sauerkraut
The recipe I used first is in a free 32-page PDF booklet on the Masontops site. That link opens the PDF booklet in a new tab and you can download it. A link to it came with the kit. This would be all the booklet needed to get started. It's called Fermenting Guide and Recipe Book. I read it all and printed out the recipe titled Traditional Sauerkraut and followed it step by step. It's getting to be a habit now. Pretty soon I won't even need to glance at the recipe!
Since you can download the sauerkraut mason jar recipe that I used, I'll just give you a quick run-through of how  I made it. The illustration above shows the results after a friend came over one afternoon for about an hour and we each made a jarful. Hers was green cabbage, mine red, both organic. We rinsed them and then cut off a leaf of each kind, the remnants of which you can see on the counter. We cut the cabbages into quarters and then removed the dense cores.
Then we each sliced our cabbage on a cutting board into very thin shreds. We put those into large mixing bowls. I had measured out a tablespoon of good quality fine salt for each of us, and we mixed that in as we went along. I added some caraway, my friend didn't.
Once our cabbages were transformed into big piles of what could easily have become cole slaw at that stage, we took turns with the Pickle Packer, that wooden thing that you can see my friend holding on the left of the photo above. Soon the cabbages became shiny as we pounded.
So then we each packed a quart canning jar, pounding down as we went with the Pickle Packer. When we got all the cabbage in, we sliced those cabbage leaves we had set aside into circles and put one on top of our other contents. Next a clear glass weight called a Pickle Pebble (from the first item I bought) went in… you can see it better in the purple cabbage jars.
The mixture naturally liquifies. I think I let my friend overfill her jar, and she did have to keep it on a plate at her house, as extra liquid seeped out.
Then You Have to Leave the Sauerkraut Alone for Weeks!
Patience is not a virtue that I am famous for, but at least this jar is sitting where we can keep an eye on it, next to a favorite vase we got once at a Mexican pottery village called Mata Ortiz. Here, the jar is out of the sun and in a fairly cool corner of the house. In the summer, I would use a cooler spot, though. It's been sitting there for two weeks and I'll give it at least another week or two. That recipe book gives tips on how you can tell when it's ready, like that the cabbage becomes more translucent.
Not Just Sauerkraut: Fermented Vegetables in a Jar
The book I bought, Fermented Vegetables, has a wide variety of ideas for vegetables and fruits. So far, I'm mainly developing my skills for sauerkraut, but I did make a nice brine pickle dish with caulifower and carrots.
A Series of Videos Explaining Fermentation
Here is a link to a playlist of nine videos on YouTube about fermentation. You can watch them all right here. The man explaining it all is Sandor Katz, a fermentation expert.
I hope you give making sauerkraut a try.
And if you are on Pinterest, here's an image: