The Best Vegetable Steamers Cost Very Little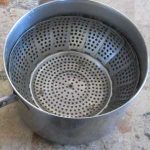 Vegetable steamers are great! For many years I've had a stainless steel one that fits in a 2-quart saucepan, but unfortunately more than once I've also let the water boil out and ended up with a tough scrubbing job on the bottom of the pan. I'll keep my non-electric steamer for emergencies, like if the power goes out. Here's a link to a similar one.
We all know that vegetables are an important part of our diet, but people who cook rarely or not at all are missing out on them. Steaming is just about the quickest, easiest way to cook vegetables. (Sure, you could skip the actual cooking and eat salads, but if you want easy cooking, my vote would be for steaming!)
The Best Electric Food Steamers
Now I am a fan of electric steamers. I'll mention some specific models after I talk about these steamers in general. Happily, these are inexpensive things.
0ver 10 years ago I snagged a brand new electric steamer at a yard sale, and we're still using it. Both my husband and I like how little electricity it uses and how easy it is to see how the veggies are coming along. We can catch them when they are just cooked enough and that means the vegetables retain lots of nutrients. Bright green broccoli has got to be healthier for you than the limp darker green version you get when it's overcooked.
Besides steaming vegetables frequently, I use my electric food steamer to make boiled eggs. Six of them sit nicely in the indentations in the food tray and the amount of cooking time is marked on the plastic case. You can do soft-boiled eggs too… We don't really eat soft-boiled ones much but I do like to have some hard-boiled eggs handy in the refrigerator for egg salad or quick snacks by themselves. When we had chickens, they sometimes laid a lot and then the steamer was really useful. For a while there, we took egg salad to every potluck we went to! One tip for the hard-boiled eggs: when the timer bell rings, put the eggs in a good-sized bowl filled with cold water. They will be easier to peel after a few minutes in there. I peel them before keeping them in the refrigerator.
Whatever you cook, these appliances are very easy to rinse out when you are done and most of them are dishwasher safe. You can also use a steamer to cook meats, fish, or rice. I have never tried rice or meat, but we do cook salmon in ours.
Vegetable steamer recipes? Simple! Wash and chop the vegetables into convenient and roughly equivalent sized pieces, toss them in the steamer, cook until done. Add spices or seasoning if you wish. Once the veggies are on your plate, they are delicious with olive oil, butter, or salad dressing dribbled on top . One of my favorite combinations is carrots, cauliflower, and broccoli. Other times, I will cram a lot of kale into the steamer by itself, and it will cook down. Artichokes can be turned upside in the steamer.
I've read a recommendation to get a steamer that doesn't let steam escape, but it happens that ours does let it escape and there is no problem. In either case, steaming is good because the foods are more likely to retain the nutrients than if you just dumped them in some water to boil.
Which steamers are the best? Here are three of the best sellers with very good reviews, but really most veggie steamers are going to work well. These are so economical that you might as get one of the best, though! I recommend the two-tier feature… we have it on ours and while I use it only now and then, when I do use it, it makes cooking a while meal so easy.
Something else to check out is how many quarts steamer holds. Think about that relative to how many people you are usually cooking for.
The Oster CKSTSTMD5-W 5-Quart Food Steamer comes with stackable steaming containers, that is, it is double tiered. You can steam different things in each layer.
If they wouldn't get done at the same time because one item needs more time, you can add the second tier a while later.
You can make a whole meal by cooking meat or fish on one layer and vegetables on the other.
This steamer comes with a timer for up to 60 minutes. I like that not only will the steamer shut itself off when the cycle is through, but it also will if it runs out of water.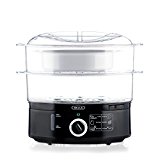 The BELLA 7.4 Quart Healthy Food Steamer is also a two tier design. It's a large, family size steamer so it can be used to cook an entire meal at the same time. It has a steaming tray that's specifically for use with grains such as rice. There's a handy steaming chart located right on the appliance so that you can know at a glance exactly how to cook the foods you want to make.
Hmm.. that rice steaming tray would give this one the edge for me! I also like that you can look through a viewing window to see how much water remains. By the way, use the basket labeled #1 on the bottom or you might get some leakage from basket #2 if placed directly on the unit.
It has a quick heating start and it cooks vegetables in a way that protects their nutrients but cooks meat thoroughly.
Would it bother me, cooking usually for two people, to have a larger vegetable steamer? No, not at all. I'd use it more when we have guests and I love leftover veggies for breakfast or snacks!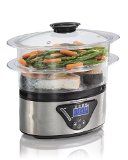 The Hamilton Beach Digital Food Steamer is a 5.5 quart capacity steamer that can have healthy meals ready fast. It's a two tier model, but you can use just one tier if you're making a side dish or something like homemade baby food.
There's a cookbook made specifically for this steamer: Hamilton Digital Steamer Cookbook: 50 Light Cooking Meals From Hamilton Steamer-Allow The Flavour Of Food To Stand Out. You can see the recipe list if you use the "Look Inside the Book" feature. I would make these recipes in any electric steamer.
If you want to make a lot of food, you can take out the divider and have plenty of room. Once the food has finished cooking, the steamer will change the cooking setting to warm and it will hold this setting for an hour.
The appliance has a quick touchpad that makes choosing your meal settings easy. When you're starting to prepare a meal, you put water in the steamer, add the food and choose your time. It has a delay start function. When the food is ready, the machine will alert you. This feature, combined with the warm setting I mentioned above, makes this perhaps the most useful steamer in terms of timing.
Spend More and Get a More Versatile Instant Pot?
If you can use some the many other functions of an Instant Pot, and if you can spend more, then an Instant Pot might be a good choice for you. They come in several sizes and here is a list of all the Instant Pot items at Amazon.com, including accessories.
I might get an Instant Pot someday, but at present I have my two steamers described above, a Zujiroshi rice steamer, and two Crockpots, so unless I wanted to take up pressure cooking, I don't need an Instant Pot. I have done pressure cooking in the past, but it's wasn't my favorite way to cook. That was before electric pressure cooking, though. This device wouldn't be my favorite for steaming simply because the steamers show you the food in a better way. On the other hand, if we ever went back to fulltiming in a motorhome where space was somewhat limited, then an Instant Pot might be just the ticket!
If you found this post useful and you are on Pinterest, here's an image ready for pinning…